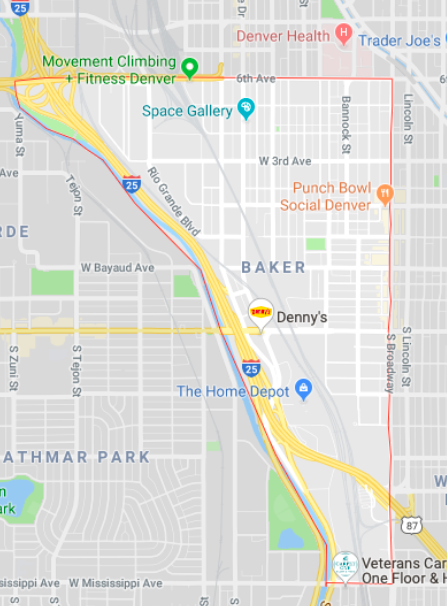 Baker
The historic Baker neighborhood is a compact triangle nestled within Broadway Street on the east, the South Platte River on the west, 6th Avenue on the north and Mississippi Avenue on the south. 
Originally called South Side or South Broadway, Baker's history dates back to the 1880s. The neighborhood is a mix of industrial, commercial and residential properties with hundreds of 19th century brick houses and 39 buildings by locally famous architect William Lang. The neighborhood has the largest collection of Queen Anne Middle Class homes in Denver, with other popular 19th and early 20th century styles, including Victorian Eclectic and Classic Cottages. Baker was placed on the National Register of Historic Places as a historic district in 1985 and became a city historic district in 2000.
It's a lively urban neighborhood, close to downtown and lined with unique restaurants, coffee shops, boutiques, music venues and drinking spots along Broadway. Baker's art deco Mayan Theater is a Denver landmark, open since the 1930's. 
Food & Drink
Beatrice & Woodsley
Woodsy, shabby chic interior design, reminiscent of an Aspen grove
38 S. Broadway
https://beatriceandwoodsley.com
Sputnik
Restaurant/bar serving vegetarian and vegan options on a pub food menu. Open late.
3 S. Broadway
The Hornet
Popular, vibrant destination for a wide selection of diner-fare. Open late.
76 Broadway
Imperial Chinese Seafood
431 S. Broadway
Smokin Yard's BBQ
900 W. 1st Avenue
Go Fish Sushi
1 Broadway #b108
Black Sky Brewery
490 Santa Fe Drive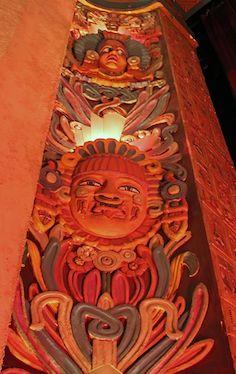 Entertainment
The Mayan Theatre
Opened in 1930, the Mayan is currently run by Landmark Theaters and features a mezzanine bar and independent films.
https://www.landmarktheatres.com/denver/mayan-theatre
Boyztown
Gay bar featuring male strippers
117 Broadway, across from the Mayan Theatre
Punch Bowl Social
Food, Drinks, Games… and Karaoke!
65 Broadway
https://www.punchbowlsocial.com/location/denver
Hi Dive
A variety of live music; local and national artists
7 S Broadway
Skylark Lounge
Historic venue with two levels - live indie and honky tonk bands street level; pool, and a patio upstairs
140 S. Broadway
3 Kings Tavern
Live rock, pinball, and pool
60 S. Broadway
Shopping
7Twenty Boardshop
Snowboards, skateboards, and kit
135 S Broadway
http://www.7twentyboardshop.com
Hope Tank
A gift shop that donates a portion of every sale to charity
64 Broadway
Awakening Boutique
A woman-owned sex and wellness boutique selling adult novelties, handmade lingerie, art, select apparel, and home goods.
38 N. Broadway
https://www.awakeningboutique.com
Buffalo Exchange
Previously worn clothing
https://www.buffaloexchange.com
Goldmine Vintage
Thrift store with vintage and  modern clothing for both men and women
227 N. Broadway #102
http://www.goldminevintage.com
Boss Vintage
Previously worn men's and women's clothing and accessories
10 S. Broadway