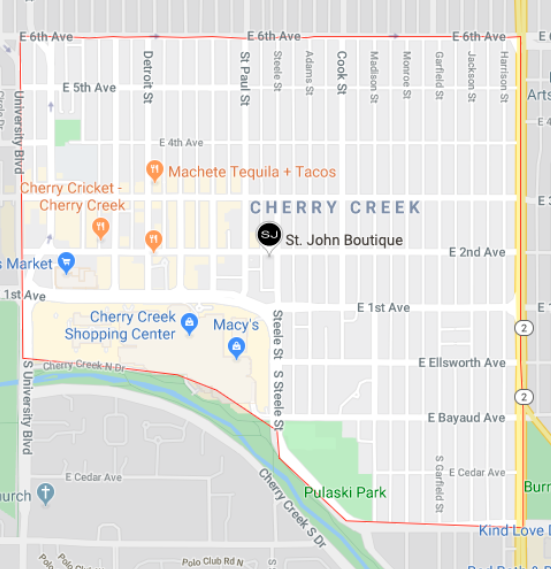 The Cherry Creek neighborhood is Denver's Beverly Hills, with high-end shopping, a good selection of restaurants, the best wine shop in town, and a hand full of boutique hotels, all within walking distance. It's defined by 6th Avenue, Alameda Avenue (or Cherry Creek), and University and Colorado Boulevards. 
Decades prior to the first settlers coming to what was formerly the town of Harmon, there were reports that the cottonwood and pine trees lining the banks averaged 3 to 4 feet in diameter and there is archaeological evidence that centuries before their arrival, maize and amaranth was grown in the vicinity.
By 1882, several lots had been sold and the town was officially founded. At that time, the community lacked a central water supply, had ungraded streets, and the nearby creek was used by much of the Denver area as an outlet for sewage. According to an 1887 Denver Times article, "Harman incorporated because irrigation for crops and trees was needed for protection against tramps, bums, bummers (roughneck hoodlums), and the liquor traffic." Just as the town was beginning to grow, the Panic of 1893 hit the country and Colorado suffered greatly due to the collapse of silver prices. At this time Harman was rendered bankrupt and its residents voted to become part of Denver in September of 1894. 
Cherry Creek has grown and changed greatly since this time. Once full of modest brick bungalows like many other Denver neighborhoods, you can find lots of large Southern California/Dallas -type stucco homes.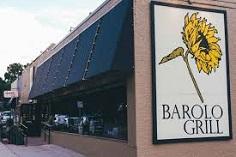 Food & Drink
Barolo Grill
Prides itself on serving authentic northern Italian food while maintaining a comfortable, elegant ambiance. Known for hand crafted modern Piemontese cuisine, a spectacular wine cellar, and knowledgeable, attentive staff, Barolo Grill is the perfect choice for special occasions or just a great night out.
3030 East 6th Avenue
https://www.barologrilldenver.com/
Hillstone
Enjoy handcrafted sushi and American dishes like our classic cheeseburger in a distinctly modern space with high ceilings and outdoor patio seating.
303 Josephine Street
https://hillstonerestaurant.com/
Little Ollies and OBar
For over two decades, Little Ollie's has been a landmark Denver restaurant in North Cherry Creek. Traditional Chinese cuisine, sushi, and sashimi, to high end all-American food served in a casual and comfortable atmosphere.
2364-2360 E. 3rd Avenue
Syrup
Creative pancakes served with a variety of syrup options, plus burgers, omelets & gluten-free items.
300 Josephine St #20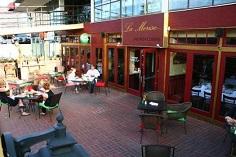 La Merise French Bistro
La Merise is a French bistro in the Cherry Creek neighborhood of Denver. It offers the ambiance and character of Paris combined with your favorite French dishes and an extensive wine list.
2700 E. 3rd Avenue
Sweet Ginger Asian Bistro
Serving signature dishes from Asia's diverse culinary cuisine. From Japan's sushi, and Chinese classic dishes to the South of Thailand.
2710 E 3rd Avenue
http://www.sweetgingercherrycreek.com/
Vinue
Self-serve wine samples are the focus at this swanky bar that also offers cocktails & global tapas.
2817 E 3rd Avenue
Machete Tequila + Tacos
Created and established in 2011. Our customers defined our vibe and our mission. They sought after the finest margaritas in the land and food that was created from the heart of Mexico City, DF.
 2817 E 3rd Avenue
Crepes n' Crepes
An authentic french creperie founded in Denver Colorado. Proudly serving patrons for over 10 years.
2816 E 3rd Avenue
Tazu Sushi and Asian Cuisine
Straightforward sushi rolls, noodle & tempura dishes are served in an industrial-chic space.
300 Fillmore Street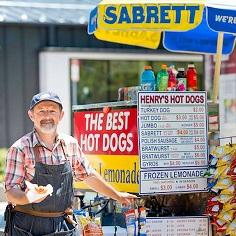 Henry's Hot Dogs
Serving area for over 25 years. Enjoy your time in Cherry Creek at the cool fountain with a yummy hot dog and a  FAMOUS frozen lemonade, made fresh DAILY!
299 Milwaukee Street, corner of East 3rd Ave &, Milwaukee Street
https://henrys-hot-dogs.business.site/
Cucina Colore
A modern take on traditional Italian Cuisine
3041 E 3rd Avenue
La Bilboquet
Open daily for lunch and dinner, the bistro and bar offers a vibrant atmosphere paired with simple, classic French cooking, bringing a slice of Parisian café culture to the neighborhood and a natural gathering spot to enjoy a chilled bottle of rosé alfresco alongside classic bistro fare or a draft beer and croque monsieur at the bar.
299 St Paul Street
https://www.lebilboquetdenver.com/
Pizzability
A pizzeria completely staffed by individuals with disabilities. It was founded by a special needs teacher who saw a need for jobs and training for adults with disabilities. Pizzability provides job training and skill development that will translate into future job opportunities, all while providing you with delicious pizza!
250 Steele Street
Hasa Sushi and Grill
Casual sushi specialist known for its variety in taste and high-quality fresh sushi.
250 Steele Street #104
Cherry Creek Grill
Offering comforting American cooking, gracious service and rotisserie chickens roasting over an open fire. Enjoy our intimate dining room or outdoor patio.
184 Steele Street
Piatti
Italian Restaurant & Bar and enjoy our warm charm, welcoming atmosphere and local Italian menu in our restaurant or private dining facilities.
190 St Paul Street
Aviano Coffee
Denver's original third wave, artisanal coffee shop. A perfect spot for all life's moments: meet new people, form groundbreaking ideas, and enjoy a perfectly crafted cup of coffee.
244 Detroit Street & 215 St Paul St, Suite 180
Hapa Sushi Grill and Sake Bar
"Hapa" is derived from the Hawaiian term that describes a harmonious blend of Asian & American cultures. Thus, our menu is based on traditional Japanese cooking fundamentals which are then amplified, muted, or mixed with influences from many different styles of cooking until they are something completely new: they're Hapa.
3030 East 2nd Avenue Suite 105
The Corner Beet
Serves clean, fresh food including toast, superfood acai and oat bowls, salads, smoothies, fresh pressed juice.
165 St Paul Street
https://www.thecornerbeetcc.com/
Del Frisco's Grille
Modern, inviting, stylish and fun, Del Frisco's Grille in Cherry Creek takes the classic bar and grill to new heights, drawing inspiration from bold flavors and market-fresh ingredients
100 St Paul Street, Suite 140
https://delfriscosgrille.com/cherry-creek/
Narrative
Offers storied food and drink under the authority of award-winning Executive Chef Paul Nagan. Narrative's approachable menu features modern American dishes, globally inspired shareable plates, a robust happy hour and more.
222 Milwaukee Street
http://narrativecherrycreek.com/
Milwaukee St Tavern
An open feel with a patio & windows looking at all the activities in the creek. All high definition plasma TV's make the Tavern perfect to watch any sporting event.
201 Milwaukee Street
https://milwaukeestreettavern.com/
Kobe An Japanese
Warm, family-owned eatery with a sushi bar & tatami rooms offering Japanese mains, cocktails & sake.
231 Milwaukee Street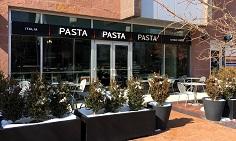 Pasta, Pasta, Pasta
Our mission is to bring everyday freshly made Italian dishes made as we were at home. Offering the authentic Italian experience to our customers with the hospitality that our country is famous for.
185 Fillmore Street
https://www.pastapastadenver.com/
Bad Daddy Burger Bar
Our philosophy to prepare simple foods–such as the quintessential American dish, the hamburger–with culinary passion satisfied a craving among restaurant-goers like nothing had before.
240 Milwaukee Street
https://www.baddaddysburgerbar.com/
Margs Taco Bistro
Chef Bryan Brutsch reinterprets Latin cuisine, blending traditional Latino flavors with global ingredients and cooking techniques.
200 Fillmore Street
https://www.facebook.com/margstacobistro/
True Food Kitchen
Relaxed, eco-chic chain serving health-conscious fare, including vegan options, plus cocktails.
2800 E 2nd Avenue Suite 101
https://www.truefoodkitchen.com/denver
Cherish Spirits Lounge
Created by restaurateur Bart DeLorenzo, Cherish Spirits Lounge provides an indulgent nightlife experience with unmistakable luxury within beautiful surroundings in the heart of Cherry Creek North.
221 Detroit Street
https://www.cherishlounge.com/
North Italia
Using only the best ingredients to create and serve consistently crave-worthy food, like our chef's choice daily pizza and fresh pasta made from scratch daily.
190 Clayton Lane
Social Fare Dining & Drinks
Experience Social Fare's creative menu of delicious comfort food, along with flavorful healthy options. Social Fare's eclectic menu starts with Social Bites that are meant to be shared.
150 Clayton Lane
https://www.marriott.com/hotels/hotel-information/restaurant/denjw-jw-marriott-denver-cherry-creek/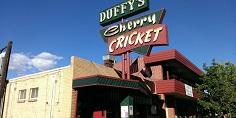 Cherry Cricket
Cherry Cricket is where friends, families and out-of-towners have been going for burgers and their brew of choice since 1945. A Denver institution!
2641 E 2nd Avenue
https://www.cherrycricket.com/
Blue Island Oyster Bar
Our approach is to create honest food and drinks, served in a comfortable, casual environment. The restaurant's culture is inspired from memories of growing up in coastal towns with families of oyster farmers and fishermen.
2625 E 2nd Avenue
https://www.blueislandoysterbar.com/
SOL Mexican Cocina
SOL was created to share the uniquely fresh, simple coastal cooking of Baja and bring you the same wonderful feeling of relaxation that we love about Baja.
200 Columbine Street #110
Quality Italian
Quality Italian is a modern take on the Italian American steakhouse tradition. It references the flavors, style and tableside flair of this classic genre with unique design and food that appeals to today's diner.
241 Columbine Street
https://www.qualityitalian.com/
Elway's
Our approach is simple: deliver the finest and freshest every day.
2500 E 1st Avenue #101
801 Chophouse
Located at the valet entrance of Cherry Creek Shopping Center, 801 Chophouse is the newest steakhouse to arrive in Denver. Experience only the finest, aged, USDA prime steaks and attentive, personable service in an authentic New York style steakhouse right in the heart of Cherry Creek.
3000 E 1st Avenue
https://801chophouse.com/denver/
Kona Grill
Striving to make every guest's experience exceptional, with delicious dishes, crafted cocktails and a comfortable, yet upscale atmosphere.
3000 E 1st Avenue #184
Matsuhisa Denver
Upscale, fine dining, Japanese Sushi restaurant serves sushi, seafood, salads, sake and cocktails in a posh setting.
98 Steele Street
https://www.matsuhisarestaurants.com/denver/
Zaidy's Deli
Since 1985, Zaidy's Deli in Denver has been serving hearty, authentic food made from old-world recipes. We serve hearty comfort food for breakfast, lunch and dinner—at all times of the day, and specialize in "homemade" meals.
121 Adams Street
Olive and Finch
As your local neighborhood restaurant, Olive & Finch is always cooking up delicious food made from scratch in a quaint, casual setting.
3390 E 1st Avenue
https://www.oliveandfincheatery.com/
Chopper's Sports Grill
The restaurant has become well-known for its Chopper's Burger, Wings and Nach-O-Mama nachos. Menu items are house-made with high quality ingredients. As a proud local Colorado bar, about 75% of our beers are home-grown Colorado brewed beers on draft or in bottles or cans.
80 S. Madison Street