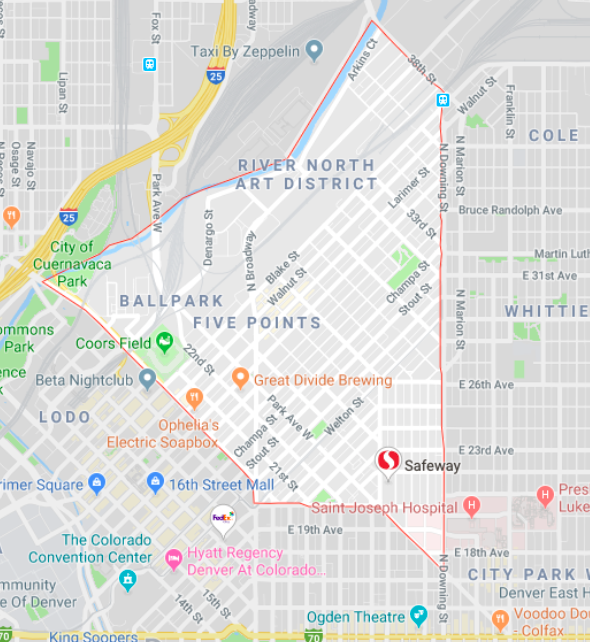 Bordered roughly by the South Platte River to the northwest, Thirty-Eighth Street to the north, Downing Street to the east, Park Avenue and East Twentieth Avenue to the south, and Twentieth Street to the southwest, Five Points is one of the oldest neighborhoods in Denver. Packed with inimitable eateries, boutiques, cafés, cocktail lounges and music venues on streets lined with street art, and furniture and interior décor showrooms to the west and stately Victorians, Italianates and rowhouses, and art galleries to the west, it's also the most fun neighborhood! 
"Five Points" refers to the five-way intersection of Welton Street, Washington Street, Twenty-Seventh Street, and East Twenty-Sixth Avenue. The name originated in 1881, when streetcar signs could not fit all the street names for the line's stop.
RiNo, Ballpark, Curtis Park, Arapahoe Square, and Old San Rafael neighborhoods are all part of the larger Five Points area. 
In 1868 Curtis Park had become the city's first public park. Three years later, the area was connected to downtown by the Denver Horse Railroad Company. In the following 10-year boom period in the 1870s, Curtis Park became Denver's first suburb. 
During the 1870s, the area surrounding Curtis Park slowly developed into one of the most fashionable of Denver's early residential areas. Within the neighborhood, both the well-to-do and those of middle class and lesser means were able to purchase lots and erect comfortable homes away from the inner city. 
Five Points started to change in the late 1880s and 1890s, as upper-class whites moved to new mansions in Capitol Hill, blacks began to move close to the rail yards where they worked along the South Platte River. Meanwhile, the Great Migration of the 1910s–20s brought an influx of new black residents to Denver. As whites moved to outlying neighborhoods, they practiced discriminatory housing policies designed to keep blacks segregated in Five Points.  In the 1920s, Five Points became home to the city's black community for much of the twentieth century. 

Five Points experienced explosive growth during and after World War II, as its black population nearly doubled to at least 13,500 in 1950. 
The area lost half its population from 1950 to 1970, after Denver passed a Fair Housing Act. As people moved away, businesses closed their doors and by 1990, the area's population was down from a high of 25,000 in 1950, to just 8,00. New development surged in the early 2000s, as hundreds of millions of dollars poured into the area. New businesses, buildings and redevelopments continue proliferating as the city grows north, making the Five Points/RiNo district a haute spot for cuisine, design and entertainment.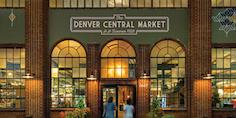 Food & Drink
Central Market
A gourmet marketplace with eateries, a creamery, a bar, a butcher counter, bakery, and dry goods. Large dining hall and sidewalk seating.
2669 Larimer Street
http://denvercentralmarket.com
Meadowlark Kitchen
Craft cocktails and a distilled, seasonally rotating menu with a Colorado theme, served in an art-lined rustic/industrial space. Food portions are quite large; DJ spinning on weekend evenings. 
2705 Larimer Street, across 27th Street from Central Market.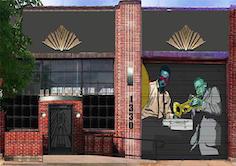 Nocturne – Jazz Club & Restaurant
This très cool jazz club is across 27th Street from Meadowlark Kitchen and around the corner from Central Market. Fine dining on white linen tablecloths yards away from the stage holding a live jazz band under towering ceilings and surrounded by exposed brick walls. 
1330 27th Street
Work & Class
Southern U.S. cooking dances with Latin fare at this distinctive fusion experience offered by Executive Chef Dana Rodriguez from Mexico and restauranteur Tony Maciag, also the proprietors of SuperMegaBien.
2500 Larimer Street, 101
https://workandclassdenver.com
SuperMegaBien
Latin American DimSum in a festive atmosphere, also a collaboration of Dana Rodriguez and Tony Maciag
In the Ramble Hotel, 1260 25th Street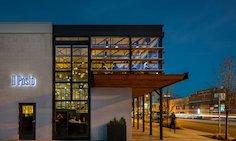 Il Posto
Il Posto brings as much enjoyment to the eyes as to the palette in its sharply designed interior and cultivated menu.
2601 Larimer Street
Uchi
Contemporary Japanese fusion in a modern industrial space.
2500 Lawrence Street
Osaka Ramen
Chef Jeff Osaka's urban basement ramen shop serving a variety of Japanese and Japanese-inspired small plates, bento boxes and ramen.
2611 Walnut Street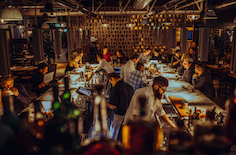 Barcelona Wine Bar
Tasty tapas and wine… almost 400 wines served in a lively warm spaced.
2900 Larimer Street
Los Chingones
Chef Troy Guard's festive nod to Mexican with a rooftop deck and DJ spinning on weekends in season.
https://loschingonesmexican.getbento.com
2463 Larimer Street
Hop Alley
Modern Chinese restaurant featuring shared plates, craft beer, and cocktails.
3500 Larimer Street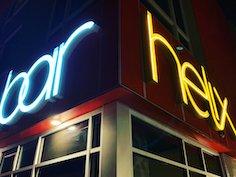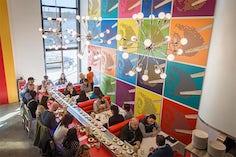 Sushi-Rama
Chef Osaka's delightful Sushi-Rama is an homage to 70s pop art with sushi for the taking on colorful plates traveling past guests.
2615 Larimer Street
Finn's Manor
Craft cocktail bar with a brick interior and exposed wooden rafters, covered outdoor seating, open patio seating and food trucks and music – Finn's Manor is a party! 
2927 Larimer Street 
Dunbar's Kitchen and Tap House
Upscale pub
2844 Welton Street
Izzio
Artisanal bread and pastries made from locally sourced, non GMO wheat
In Central Market: 2669 Larimer Street
Rebel Bread
Fougasse! Only open Friday-Sunday
2400 Curtis Street #1
Beet Box
Vegan bakery with gluten-free selection
1030 E 22nd Avenue
Rosenberg's Bagels & Delicatessen 
Bringing Jersey to Denver
725 E 26th Avenue
Crema Coffee House
Edgy urban vibe, great coffee and pastries
2862 Larimer Street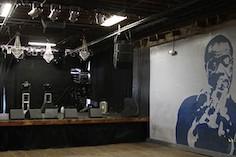 Entertainment
Cervantes Masterpiece Ballroom/Cervantes Other Side
Formerly the Casino Cabaret, one of Five Points' legendary jazz clubs, dating back to the '30s, when it brought in such legends as Duke Ellington, Count Basie and Benny Goodman. Cervantes Other Side is a smaller venue adjacent to the larger with a door in-between. 
2637 Welton Street
https://www.cervantesmasterpiece.com
Tracks
Denver's premiere LGBTQ dance club
3500 Walnut Street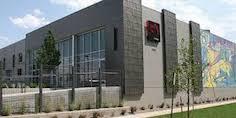 Art Galleries
Redline Contemporary Art Center
RedLine is so much more than a gallery. It supports emerging artists, and provides creative opportunities for local residents, children, and homeless artists. Redline offers an in-depth, two-year residency program that includes free studio space, community engagement opportunities, and professional development. 
2350 Arapahoe Street
Visions West Contemporary
2605 Walnut Street
http://www.visionswestcontemporary.com
Corazon Gallery
3039 Walnut Street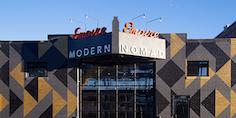 Shopping
Modern Nomad
A warehouse space housing a design collective featuring new and vintage furniture, textiles, pottery, jewelry, and accessories for the home.
2936 Larimer Street
https://www.modernnomaddenver.com
Steadbrook
Men's street fashion 
3151 Larimer Street
Timber Trading Company
Rugged men's fashion
3070 Blake St #170
https://www.timbertradecompany.com
Meraki Moon Boutique
Bohemian women's fashion
3070 Blake St #100
Furniture and Home Décor
Studio 2B
2527 Larimer Street
https://www.studio2bdenver.com
Studio Como
2535 Walnut Street
Design Wright Studios
2800 Walnut St #600
https://designwrightstudios.com
Rifugio Modern
2901 Blake Street, #160
The Local Butcher
In the Central Market: 2669 Larimer Street
https://thelocalbutcherdenver.com