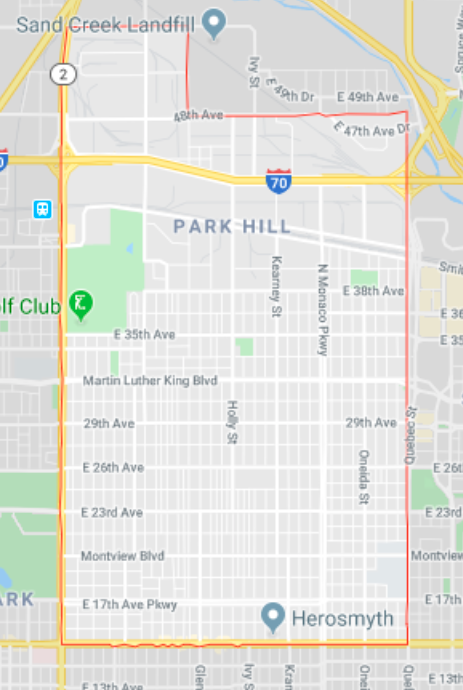 Park Hill's roots can be traced back to Baron Allois Gillaume Eugene A. von Winckler, a Prussian man who was inspired by Denver's existing Montclair neighborhood when he purchased land east of Denver's City Park and platted Park Hill in 1887. He took his own life in 1898, and his land fell to developers who began creating what today is known as Park Hill.
Early developers sold Park Hill as a superior option to the immediately adjacent City Park not merely as a place of relaxation and leisure, but also as a buffer between the noise and bustle of the City. Developers also drew a contrast with Capitol Hill, which they represented as a neighborhood then in decline. Park Hill's early development was like any other so-called streetcar suburb established in other turn-of-the-century American cities. The Park Railway Company, established in 1888, operated until 1899 when the Denver Tramway Company absorbed it. By the early 1930s, Park Hill had become an automobile suburb, as most Denver commuters now made their way to work by private car.
Park Hill has always been characterized as amongst Denver's most desirable places to live. Often presented as not merely as a place to call home, but a reflection of accomplishment, affluence, its significant diversity in its streets and in the architecture of its homes. Park Hill's residential styles range from Victorian, to Denver Squares, to Arts and Crafts homes of the early twentieth century, to modest mid-century homes constructed for new postwar families.
Food & Drink
The Elm
A welcome addition to the Park Hill community of Denver when it opened its doors in April of 2004.  Offering a great sense of comfort from the classic wood bar, sweet retro fixtures throughout, 12 exceptional tap handles and a vibe straight out of the 1930s.
5001 E. Colfax Avenue
Jett Sushi
Recognized for its outstanding sushi and Asian cuisine as well excellent service and friendly staff. They are known for their modern interpretation of classic dishes and insistence on only using high quality fresh ingredients.
5007 E. Colfax Avenue
Africana Restaurant & Café
Since 1980, Africana Restaurant has been a destination for authentic Ethiopian & Eritrean food the Denver Metro area. The menu features a wide variety of unique flavorful dishes, including many vegetarian options. There is a full bar with a daily Happy Hour specials, plenty of local drinks and imports of Ethiopian drinks.
5091 E. Colfax Avenue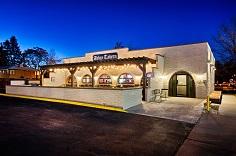 The Abbey Tavern
A new Irish pub opened its doors on November 2013. It's more about the Irish hospitality, the Irish way of comfort. The comfort extends to the food and drink, whether that's a little Jameson, Guinness or some good, old-fashioned pub food.
5151 E. Colfax Avenue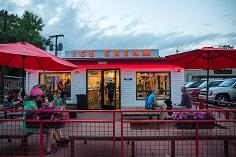 Nuggs Ice Cream
A Colorado family-owned business serving Denver's favorite ice cream and desserts. They make all of their ice creams and waffle cones in-house daily and source from local dairies and vendors.
5135 E. Colfax Avenue
GB Fish & Chips Restaurant
The mission of Get Battered Fish & Chips is to cook and serve the best fish & chips around, while introducing other English specialties such as Bangers & Mash, Pork Pies, Shepherd's Pies, Pasties, and more.
5325 E. Colfax Avenue
https://www.gbfishandchips.com/
Axum Ethiopian Restaurant
Homey setting for a taste of North Africa, featuring vegetarian specialties & honey wine.
5501 E. Colfax Avenue
http://www.axum-restaurant.com/AXUM-RESTAURANT-MENU.pdf
Park Hill Hub
The Park Hill Hub has a plant filled outdoor patio with shade providing green umbrellas perfect for sipping a yummy coffee beverage, a nice and spicy Bhakti Chai latte, or a steaming pot of tea steeped to perfection.
1502 Ivanhoe Street
Abyssinia Ethiopian Restaurant
A cornerstone in the Denver community and has been recognized for its outstanding Vegetarian cuisine, excellent service and friendly staff. The kitchen uses a modern interpretation of classic dishes and its insists on only using high quality fresh ingredients.
5707 E. Colfax Avenue
https://www.abyssiniaethiopian.com/
Phoenician Kabob
Delicious Mediterranean Cuisine. Enjoy our friendly and relaxing environment, with daily lunch specials, happy hour drinks and weekly Belly Dancing entertainment.
5709 E Colfax Avenue
Queen of Sheba Ethiopian Restaurant
While the setting is modest, amazing, authentic Ethiopian fare awaits at this family run restaurant.
7225 E Colfax Avenue
https://zmenu.com/queen-of-sheba-denver-online-menu/
Spicy Thai II
Casual strip-mall restaurant with a menu that goes beyond traditional Thai dishes to sushi & such.
2235 Oneida Street
http://www.spicythai2235oneida.com/wp/
Famous Philly Cheese Steak & Beer Garden
Traditional cheesesteak sandwiches, wings & beer served in a casual vibe with patio seating.
2200 Oneida Street
http://www.famousphillycheesesteak.com/
Esters at Oneida Park
Esters focuses on serving the families, friends, sports fans, professionals and entrepreneurs of the community. Bringing quality interpretations of artisanal pizza, classic dishes and daring new ventures in American pub food, featuring 20+ rotating craft beer taps, most of which are from Colorado.
2201 Oneida Street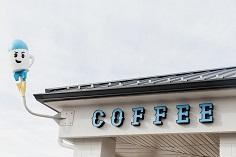 Topedo Coffee
Torpedo Coffee is all about coffee, community, and connections. It is great coffee without the attitude. 
 2231 Oneida Street
Dang
Introducing a sweet and savory twist on 2 American favorites, soft serve ice cream and french fries.
2211 Oneida Street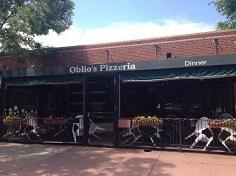 Oblio's Pizzeria
Serving the Park Hill neighborhood for over 20 years.  A great selection of craft beer, wine and cocktails.  Our menu consists of pizza, wings, subs, salads, dessert and more.  From your classic pizza favorites to our signature pizzas we know you will find something to enjoy.
6115 E 22nd Avenue
Neighbor's Wine Bar
Cozy nook with artisanal charcuterie & cheese plates, plus international & local wines by the glass.
2202 Kearney Street
http://www.neighborsparkhill.com/
Cakes Crumbs Bakery & Café
Locally owned bakery and café located in the heart of Denver's Park Hill Neighborhood. Purveyors of tasty pastries, delicious house made food and beautiful custom cakes.
2216 Kearney Street
Tables
Husband-and-wife duo dish creative New American cuisine in quirky bungalow-style spot with patio.
2267 Kearney Street
Blazing Chicken Shack II
Cooking Southern classic favorites for the community.
5560 E 33rd Avenue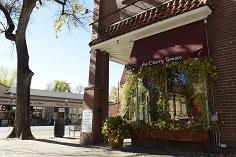 The Cherry Tomato
Busy neighborhood Italian eatery bringing classic dishes to the community for over 20 years.
4645 E 23rd Avenue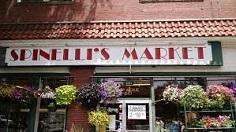 Spinelli's
Since 1994 Spinelli's Market has loyally served customers in the Park Hill neighborhood of Denver, Colorado, providing gourmet foods and Italian specialties.
4621 E 23rd Avenue
Bistro Barbes
An intimate French style bistro with culinary roots from the Parisian neighborhood of Barbès serving seasonal creations with traditional French techniques while introducing flavors from North Africa, the Middle East and the Mediterranean.
5021 E 28th Avenue