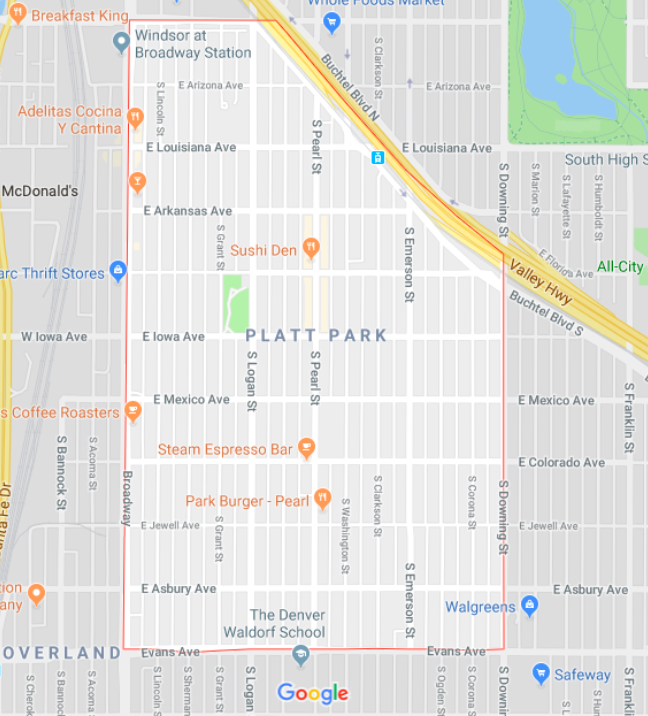 The Platt Park Neighborhood started out as the Town of South Denver within the boundaries of the Platte River east to Colorado Boulevard and Alameda Avenue south to Jewell Avenue. Originally formed to restrict the creation of more saloons and road houses, the Town of South Denver was annexed to the City of Denver in 1894
A sizeable Dutch community settled in the West University neighborhood and established the First Christian Reformed Church in the Platt Park neighborhood. The church was dedicated in 1908 and still stands at the corner of Colorado Avenue and Emerson Street.
It's now bordered by Broadway on the west, South Downing Street on the east, East Mississippi and Buchtel Blvd. to the north and Evans to the south and includes South Pearl Street culinary destinations and South Broadway shopping.
South Broadway is the place to go for antique furniture and eclectic, original home décor and South Pearl for upscale Japanese cuisine and to consult with various Wellness professionals. There's also a great liquor store there.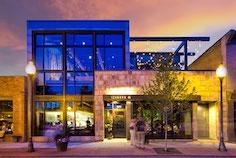 Food & Drink
South Pearl Street
South Pearl Street's main draw is these two widely renowned Japanese restaurants, started by chef Toshi Kizaki in 1984
Sushi Den
1487 S. Pearl Street
Izakaya Den
1487A S. Pearl Street
South Broadway
Adelita's 
1294 S. Broadway
La Chiva
Homey and festive Colombian restaurant serving tasty fare made from family recipes
1417 S. Broadway
https://www.lachivacolombian.com
Palenque Mezcaleria
Just walking in put a smile on our faces! 
13 E. Louisiana Street
Shopping​
Crimson Rose Masquerade
1456 S. Broadway
https://www.crimsonrosemasquerade.com
Tim Burton meets the Renaissance Fair and explodes in a blend of romantic and macabre masks and women's fashion
CLP Jewelry
Affordable handmade jewelry, apparel accessories, and gifts
1464 S. Broadway
20th Century Interiors
Mid-Century Modern Antiques
1460 S. Broadway
https://www.20thcenturydenver.com
Watson & Company
Ecclectic collection of home furnishings and décor, gifts and accessories with a theme of  American art and design
1524 S Broadway
Djuna
Ecclectic collection of home furnishings and décor, gifts and accessories with a French provincial influence
1824 S. Broadway
http://www.djuna.com/contact-us.html
Doggie Delights On Broadway
Anything you could want for your dog
 1432 S. Broadway
https://www.facebook.com/doggiedelightsonbroadway/
Pearl Wine Company
A copious selection of wines and spirits tastefully displayed by world regions 
1886 S. Pearl St.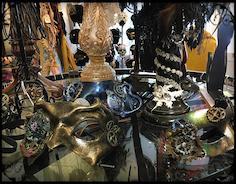 Adventures in Platt Park
Platt Park is like a "Tale of Two Neighborhoods". Olde South Pearl, which most people know as the location of the Sushi Den,  is also home to a multitude of health and wellness studios, boutiques and coffee shops. South Broadway brings a totally different vibe. It seems to be a hotbed for new breweries doing exiting things, as well as offering a heavy dose of Latin-inspired cuisine and cocktails. Throw in a few tattoo parlors and antique stores and you have your backdrop for a very amusing and interesting adventure.  
Adelitas Cocina Y Cantina
We stopped in for a quick bite and a cool drink; the place is bustling with the lunch crowd…Oh its Taco Tuesday and they have $1 tacos!! Most of the people enjoying lunch look like they are from the neighborhood, has a little edgier feel than what you will find on Olde South Pearl.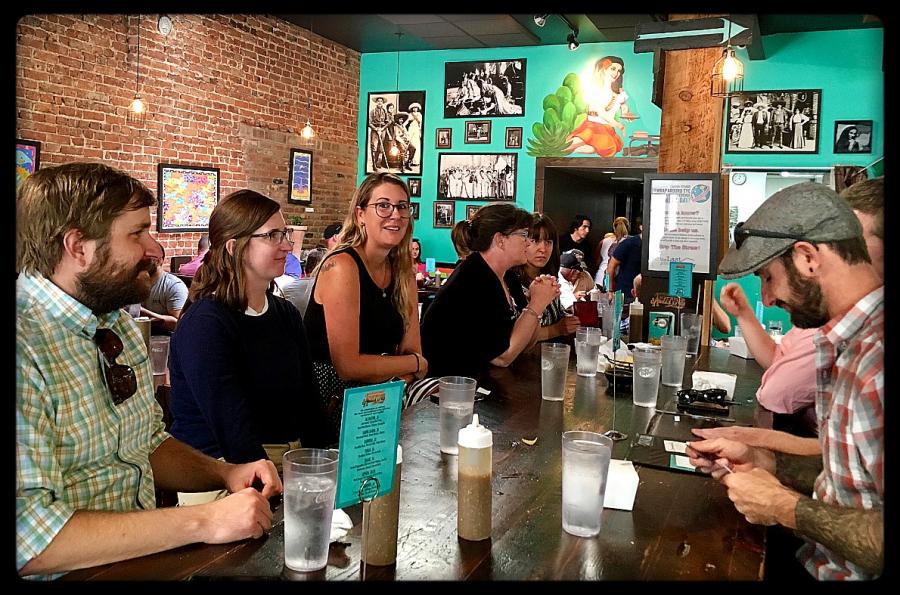 Black Tulip Antiques LTD
How in the world does anyone find anything in this place? We almost lost each other! The owner is very friendly and fully hidden behind a wall of antiques just to your right when you walk in the door. Neither one of us are experts but the prices seemed kind a high to us. Brush up on your bartering skills before entering.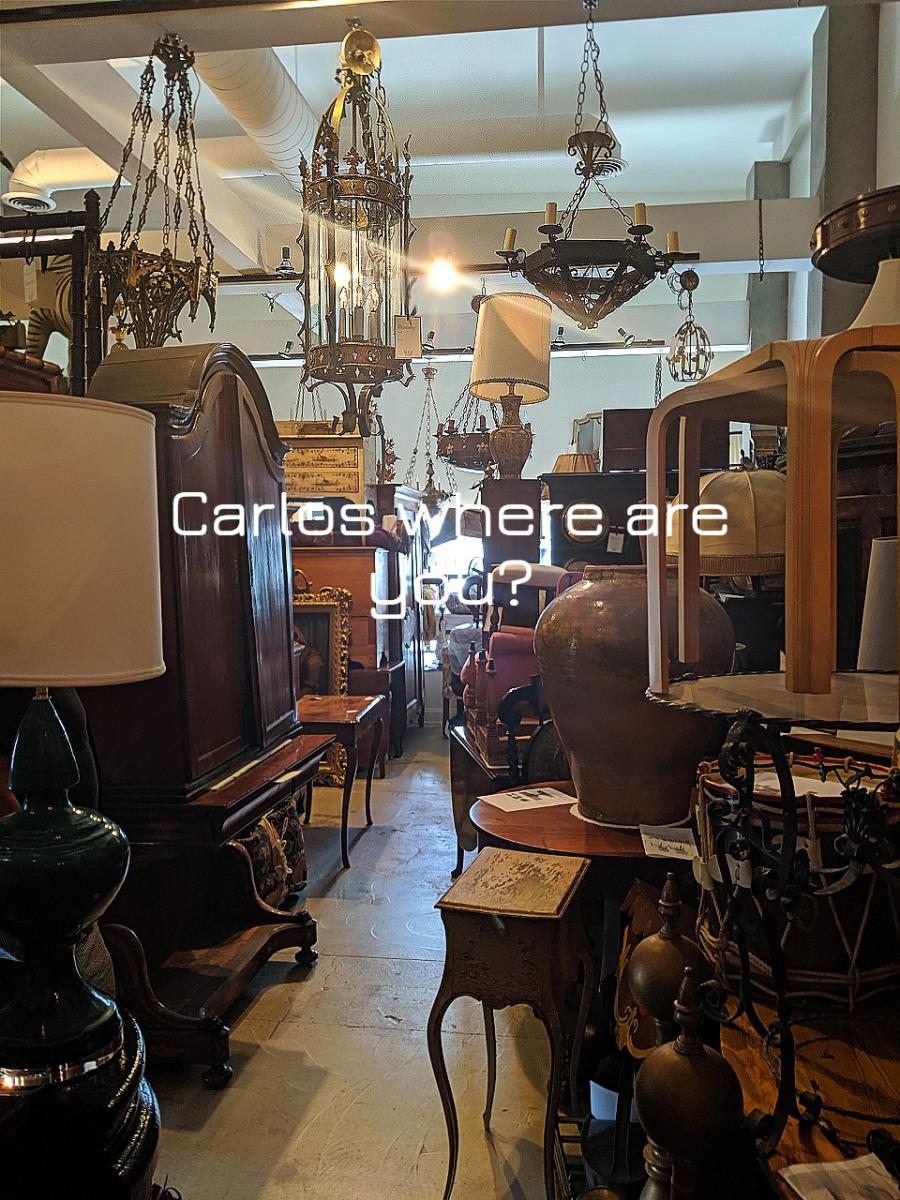 Crimson Rose Masquerade 
This is the coolest store, full of handmade masquerade masks that are truly pieces of art. Some a little spookier than others (a few reminded us of characters in a scary movie) but they are all beautiful. Who knew this little gem of a store was here! We strongly suggest you check it out next time you're in the area.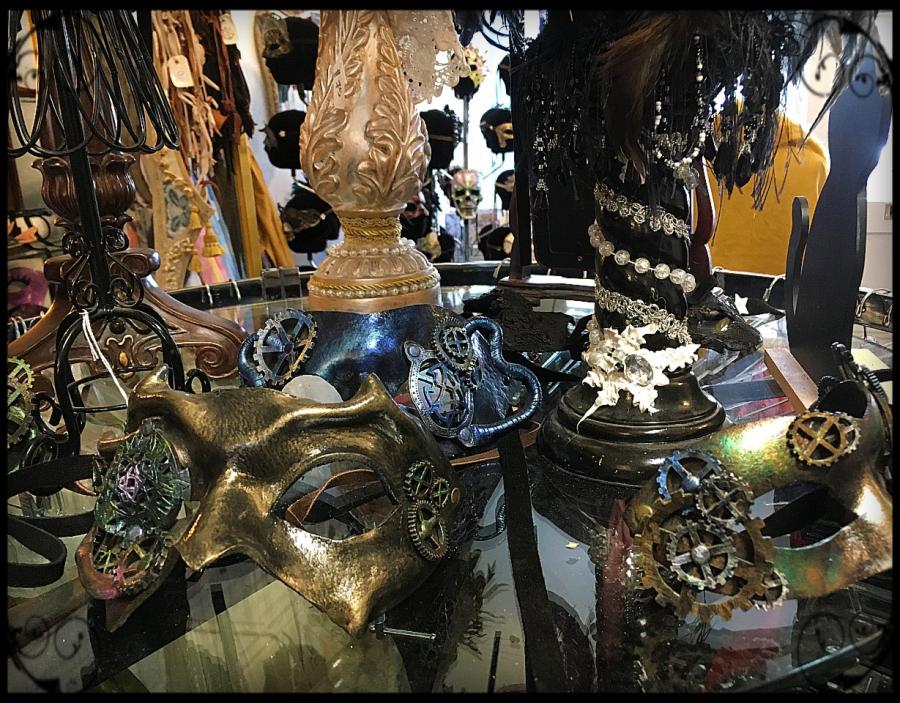 Watson & CO
We both loved this place… lots of merchandise and easy to see. They have a sister shop right next door with prices that are a little more reasonable.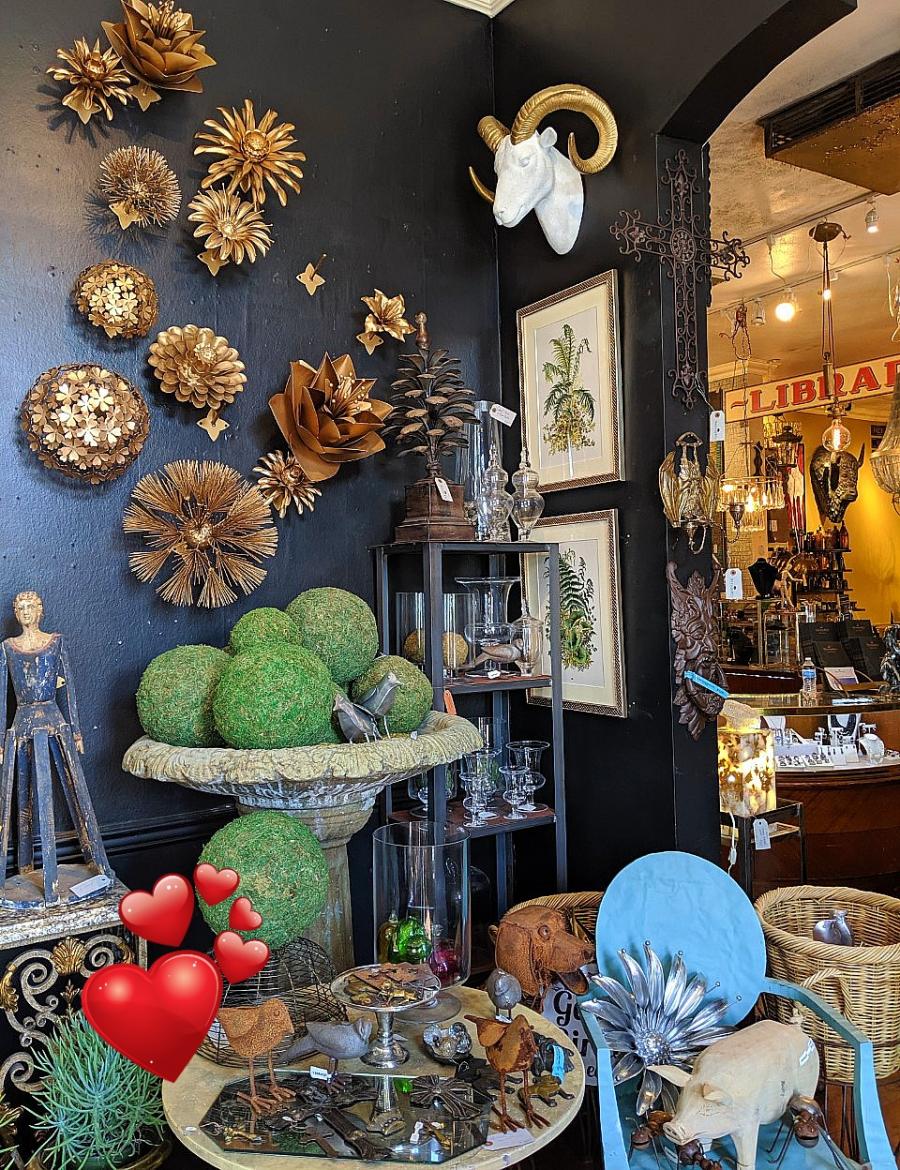 CLP Jewelry
Beautifully crafted jewelry from a local artisan. Ilona purchased a skull necklace to match her skull tee shirt!
La Chiva
Yum we both enjoyed this restaurant serving authentic Columbian food. Carlos chose to go with the Sopa del Dia on a 95-degree day which is why he needed a Mojito to wash it down. I tried the Vegan Arepa and I too needed a Mojito! Staff was friendly and food was great.
Palenque Mezcaleria
One of our favorite finds… Fantastic bartender (a local, nice to see one of those around town) and she made a great Mezcal cocktail. We each had a few Orange Crushes. Inside is cozy and the patio is set up to accommodate large parties of friends and family.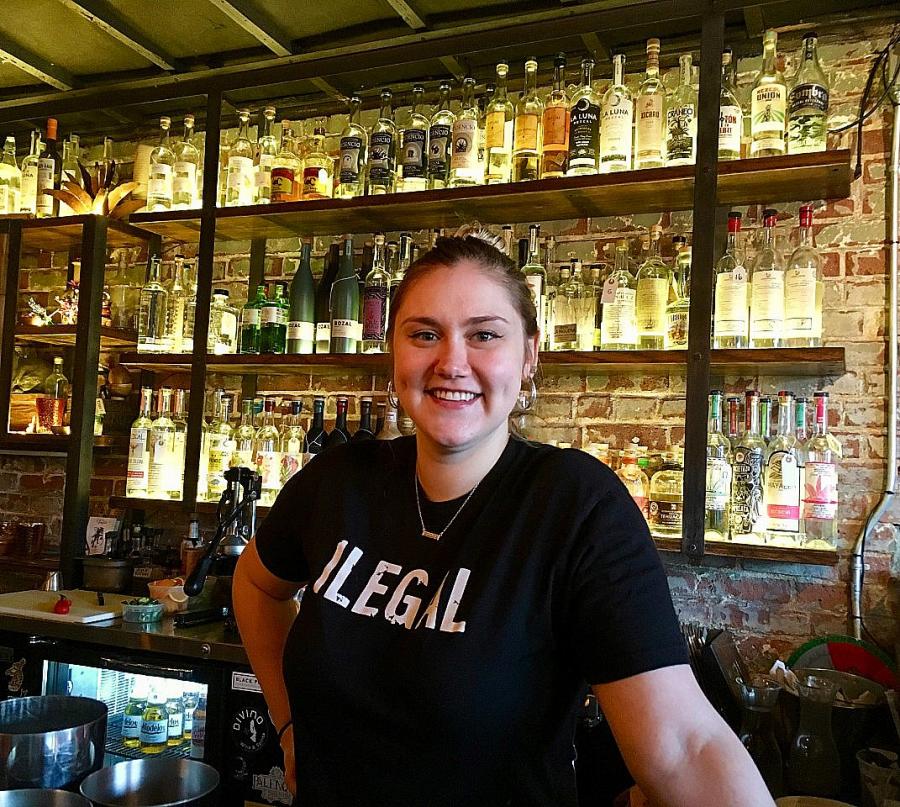 Dos Luces
Another great find on our adventures on South Broadway, all GLUTEN FREE brewed options using old school traditions. Not only is it fun to do the full tasting but it's super interesting to learn about the style and processes behind them. Carlos was not too sure about these, but I thought they were all interesting, beware Pulque's are sour and pack a punch.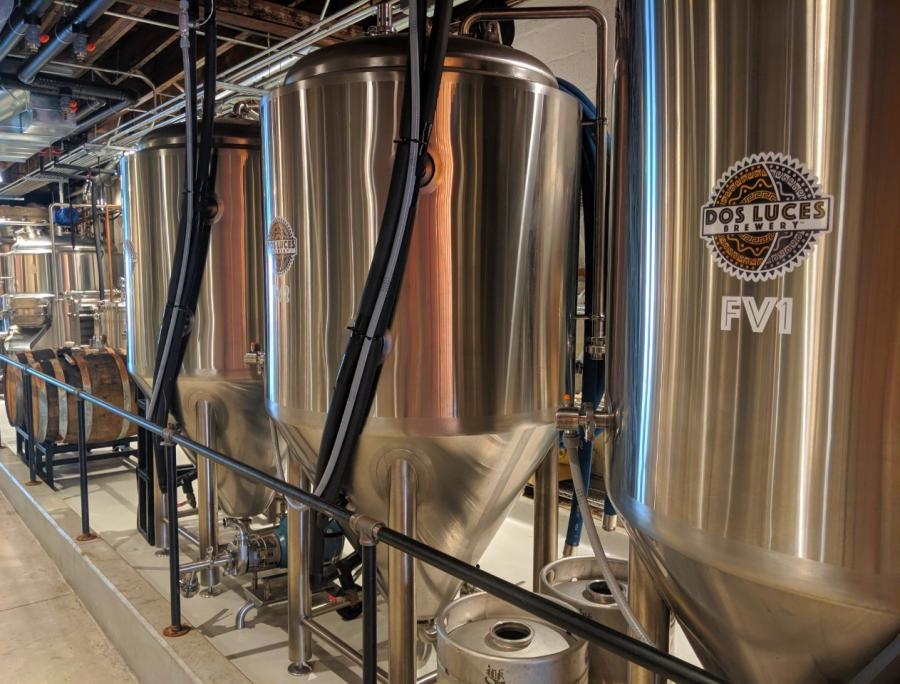 So we are not going to spend a lot of time on Olde South Pearl as most of the city is aware of the 3 successful restaurants that Chef Toshi Kizaki has on this street. Sushi Den has been on Pearl Street since 1984 and has long been recognized as one of the best if not the best sushi in the City. What we didn't realize until walking down Pearl Street and really paying attention to what was in the old houses and commercial buildings is all of the self-help, holistic doctors and wellness centers.... There are a ton!
Always having an interest in the afterlife, Carlos and I went to see Shane Sale https://www.innerlightshines.com/, an Intuitive Body Worker/Psychic and Medium. While my session was interesting, I was a little disappointed that my dead people did not really want to talk to me.  I think I have watched too many Tyler Henry episodes!! Carlos, on the other hand had a very different experience; there was a very strong presence of what Shane referred to a Shaman in the room who had close ties to Carlos. 
The Ruffly Rose
Is a quaint flower shop in an old Victorian house situated near the corner of Iowa and Pearl. They offer beautiful fresh arrangements for any occasion.