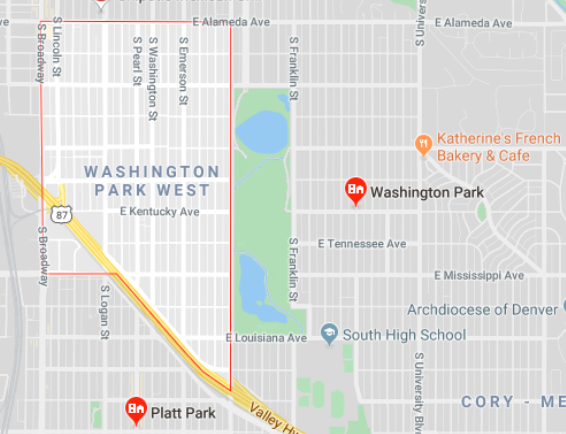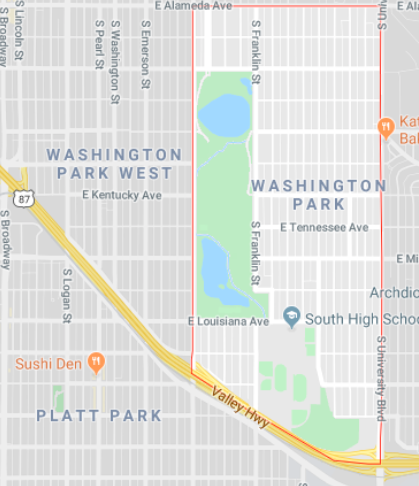 Washington Park is arguably one of Denver's most popular and well-known neighborhoods. The homes are a comfortable blend of historic and contemporary styles, surrounding a sprawling, 155-acre park complete with two lakes, flower gardens, picnic areas, playgrounds, tennis/basketball/volleyball courts, horseshoe pits and a 2.6-mile loop for joggers and walkers. A recreation center with an indoor pool and exercise equipment is also located in the park as well as the Boathouse at Smith Lake that can be rented out for special events. 
The history of the neighborhood began when Reinhard Schuetze was commissioned to design this scenic park in 1889. Smith Lake was already in existence as a natural depression that some say may have been a buffalo wallow. The depression became a lake in May, 1867 when Smith's Ditch was completed. The ditch flowed nearby bringing much needed water from the South Platte River into Denver. 
The neighborhood generally referred to as "Wash Park" is often broken down into eastern and western sides: not only do both have their own neighborhood organizations and quite-different historical trajectories, but since 1972, official city statistics have tracked Washington Park West as separate from the easterly "Washington Park." Downing Street, which runs along the West side of the park is the dividing line between East and West.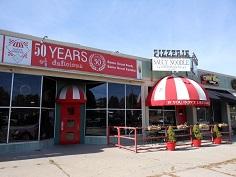 Food & Drink
Washington Park
Saucy Noodle 
A traditional Italian joint where their motto is "if you don't like garlic, go home". This is a well-known local establishment that has been in business for over 50 years, adorned with red and white checkered tablecloths and straw covered Chianti bottles.
727 S University Blvd
Ink Coffee
Locally owned coffee shop that opened in 1994 with its first location in Snowmass and now has 16 locations in Aspen and Denver.
709 S University Blvd
Grillin Wings and Things
Serving up their specialty "Pig Wings" made from mini bone-in pork shanks and "Special Grilled" chicken wings. All accompanied by homemade sauces.  
723 S University Blvd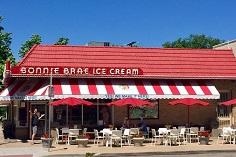 Bonnie Brae Ice Cream 
Making ice cream on site for over 30 years, this local spot attracts locals as well as tourists and transplants. Warm summer days will bring lines down the block so be prepared to wait but you won't be disappointed. My favorite has always been the Cinnamon.
799 S University Blvd
http://bonniebraeicecream.com/
Agave Taco Bar
Specializing in authentic, fresh homemade tortillas and tacos, Natural juice margaritas, exceptional salsas and fresh aqua frescas. 
2217 E Mississippi Ave
Wash Park Grille  
"An Italian Grill with a Twist" has been serving Wash Park for over 50 years. Inspired menu with plenty of Gluten Free options and Live Music Thursday – Saturday.
1096 S Gaylord St
http://www.washparkgrille.com/
Max Gill and Grill 
Bringing you the beach at 5000 feet. This place has a real Key West vibe with its hard wood floors and nautical décor. Make sure to walk all the way to the back where you will find their hidden gem, a Tiki Bar.
1052 S Gaylord St
https://www.maxgillandgrill.com/
Charcoal Bistro 
One of the newest restaurants to Gaylord St Charcoal Bistro Prices itself on contemporary cuisine in a relaxed atmosphere. The chef driven kitchen serves guests the freshest seasonal ingredients.  
1028 S Gaylord Street
Devil's Food Bakery and The Cookery and Mrytle Hill 
The bakery brings craft coffee drinks and an array of sweet and savory backed goods is adjacent to the bakery is the Cookery. This small space is always busy especially for brunch. Serving up eggs, waffles, sandwiches and of course Mimosas. Dinner is available Thurs-Sat offering simple comfort food.
1004 and 1020 S. Gaylord St
http://www.devilsfooddenver.com/
Homegrown Tap & Dough 
Sourcing the best local ingredients to make home-made pasta, hand-tossed wood fired pizza and quality gourmet burgers made with all natural never frozen patties.
1001 S. Gaylord Street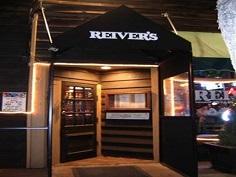 Reivers 
Part of the Wash Park neighborhood since 1977. This staple of the block features upscale pub food & craft brews in an unpretentious setting.
1085 S. Gaylord Street
http://reiversbarandgrill.com/
West Wash Park
Fooducopia 
Neighborhood market and eatery providing seasonal, locally sourced fare for breakfast, lunch and dinner.
1939 E. Kentucky Avenue
Blackbird Public House 
Locally owned and community focused offering thin crust pizza, fresh oysters, traditional favorites like burgers and fried chicken as well as chef inspired seasonal dishes focusing on the freshest local ingredients.
305 S. Downing Street
https://www.blackbirdpublichouse.com/
Fire on the Mountain 
Grateful Dead inspired wing spot featuring Redbird chicken and homemade sauces. The restaurant is also known for its meat alternatives such as vegan chicken, portobello mushrooms, and seitan.
300 S. Logan Street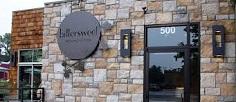 Bittersweet  
The bittersweet team has an artisanal approach to hand crafted, playful and artfully created food that is not only grounded in fundamental culinary techniques but their verve for the Avant Garde.
500 E. Alameda Avenue
Fontana Sushi 
Part of the West Wash Park neighborhood since 1999. Independently owned and operated, Fontana Sushi continually innovates and evolves with Japanese and Chinese cuisine's trends. Bringing the freshest fish from around the world, combined with the latest culinary ideas and technique at a neighborhood friendly price.
534 E. Alameda Avenue
Pho Haus 
Casual Vietnamese dining in an industrial-inspired space with bicycles hanging from the ceiling.
540 E. Alameda Avenue
Finley's Pub  
Neighborhood favorite Irish Pub, featuring craft beer and upscale pub food, including one of the best burgers in Denver according to Westword.
375 S. Pearl Street
https://www.finleysdenver.com/
Candlelight Tavern 
Your neighborhood dive bar that offers greasy grub, the full gamut of bar games, and open-arms attitudes from staff and regulars alike.
383 S. Pearl Street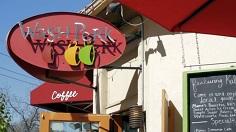 Wash Perk 
Nestled on a residential street just a few blocks from the park, Wash Perk believes that the neighborhood coffee shop holds a special place in the community. Serving high-end coffee, espresso drinks, lattes, baked goods & light fare in this comfy atmosphere.
853 E. Ohio Way
Vert Kitchen  
Is about real cooking and healthy eating. Our chefs are inspired by old world flavors, slow foods philosophy, and the passion and techniques of French cuisine. Everything is proudly handmade in-house using 100% organic produce, all-natural, sustainable meats and dairy, plus the finest pantry goods in Denver.
704 S. Pearl Street
Overt
Overt is the coffee-shop counter sibling of Vert, the sandwich shop just a couple of doors down. The narrow spot occupies a former alleyway, and while Overt doesn't offer any indoor seating, it makes up for the lack of interior space with a secluded, peaceful patio.
712 1/2 S. Pearl Street
https://www.facebook.com/Overt-1479787358991009/
Kentucky Inn 
Proud to be locally owned and operated. We are local Coloradoans dedicated to serving great food and libations in a cozy, fun environment.
890 S. Pearl Street
https://kentuckyinndenver.com/
Pub on Pearl
Since the 1950's when this was The Corner Pub, the Pub on Pearl has continued its tradition of being a true neighborhood spot. You can find one of the owners at the pub every night. They take pride in offering a wide selection of adult beverages at neighborhood prices as well as great homemade pub food.
1101 S. Pearl Street
https://www.thepubonpearl.com/
The Roxy 
1920's ambiance, classic cocktails, shared plates and live music 7 nights a week.
554 S Broadway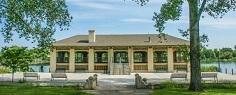 Wheel Fun Rentals
Located next to the park's boathouse, they feature some of the most unique cycles and comfortable boats around to enjoy the lake and 2.75 mile loop around the park.
691 South Humboldt Street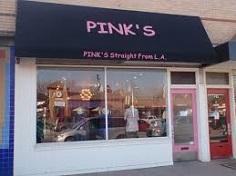 Pink's
A must shop women's clothing boutique, a gem of the Bonnie Brae and Wash Park neighborhood.
745 S University Blvd
https://www.facebook.com/pinksdenver745/
The Paper Lady
Denver's premiere stationery store since 1981. With affordable prices on wedding invitations, birth announcements, unique party invitations, Christmas photo cars, moving announcements or distinctive gift items, The Paper Lady will personalize to your specific tastes.
1018 S Gaylord Street
https://www.facebook.com/paperladydenver/
Silk Road
A delightful gift shoppe nestled in the heart of Old South Gaylord, specializing in bringing the unique, the whimsical and the beautiful to your fingertips from both near and far.
1065 S. Gaylord Street
W Boutique
Inspired by New York attitude and mixed with a little Cali love, our Denver boutique represents the best of both coasts.
1071 S Gaylord Street
Trout's American Sportwear
A high-end men's clothing store, Trout's specializes in premier customer service and a curated selection of reputable brands.
1077 S Gaylord Street
Barbara & Company
Locally owned clothing boutique with hand-selects high quality styles from Europe, New York, Los Angeles and local Colorado designers.
1067 S Gaylord Street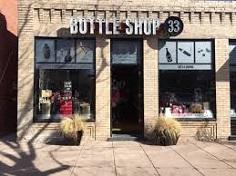 Bottle Shop 33
A humble little shop where you will find a curated selection of some of the best to come from grape and grain.
1080 S Gaylord Street
Wish Boutique
One-of-a-kind women's clothing store locally owned by a Denver native, women's clothing and accessories from some of the best-known designers.
1099 S. Gaylord Street
http://wishdenver.com/boutique/
Flower Power
Cozy, unfussy neighborhood retailer offering a sizable selection of flowers & more.
2101 E. Virginia Avenue
http://www.flowerpowerwashpark.com/
Urban Hardwood Furniture
A wholesaler and manufacturer of solid hardwood and handmade furniture uniquely situated to produce custom lines of furniture as requested by clients ranging from furniture to cabinets and architecture elements.
316 S. Broadway
https://urbanhardwoodfurniture.com/default.aspx
Tenorio Werx
Locally owned company that builds and services guitars.  All clients are seen by appointment only in order to see and hear their playing style and to talk about options for repair on their electric or acoustic guitar/bass or options for a hand-built instrument.
525 E. Ohio Avenue